New Deluxe Two Bedroom Lodges
Point View Resort's new deluxe two bedroom cabins are complete with central heating and air conditioning, so that your family can keep cool on those warm Missouri days, or stay warm on cool spring and fall nights. Each bedroom includes a comfortable queen size bed. Unfortunately we cannot allow pets or smoking inside of the cabins, we apologize for any inconvenience this may cause.

Sleeps 4-6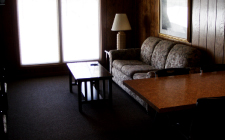 Comfortable Cabins with a View of the Lake
Each Point View Resort lodge is located just a few steps from the boating and fishing docks on the Lake of the Ozarks. There is a deck on each building, so you can enjoy a view of the lake as you sip your first cup of coffee in the morning. The lake water that surrounds the resort is clean and refreshing, as our location is upstream from the main channel. Take your family and friends out on the lake for tubing, skiing and boating or take a walk around our beautifully groomed grounds. Breathtaking cave tours and horseback riding adventures are just a short distance away.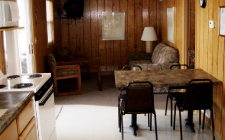 Living Area
Our new deluxe cabins boast clean and spacious living room areas to ensure you and your family have plenty of space. Plan the day's events, lounge around on our comfortable furniture or watch your free cable TV while you're taking a break from the sunshine. We currently do not offer DVD players in any of our cabins, however you are welcome to bring your personal DVD player and hookups. The plush couch is not only the place for you to curl up and take a mid-afternoon nap; it's also a hide-a-bed sofa for additional guests to sleep on. WiFi is also available.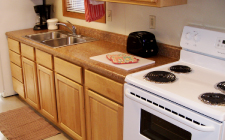 Fully Equipped Kitchen and Dining Area
We want your stay at Point View Resort to be comfortable and budget-friendly. We provide a fully equipped kitchen so that you can have the freedom to whip up your family's favorite meal or make a quick snack before you head out for a day on the boat. There is also a barbecue grill and picnic tables so that you can grill up some steaks, or even s'mores, with a view of the lake.
573-873-5340
Call for Reservations:
Outdoor Activities at the Lake of the Ozarks
The Lake of the Ozarks is widely known for its boating, fishing and water-related activities, but there are so many other fun activities to enjoy during your visit at Point View Resort. There are 16 golf courses in the area that offer various levels of difficulty and beautiful views of the surrounding area. Ha Ha Tonka, a state park located nearby, has 3,600 acres of beautiful landscapes, caves and hiking trails, along with the remains of a European-style castle. Horseback riding, bird watching and hunting for turkey and deer in-season provide more adventure for you and the family.
Lake of the Ozarks Entertainment
If you're interested in shopping during your trip to The Lake, there is a large, outlet mall with over 110 shops conveniently located nearby. For something a little more unique, visit one of the many antique shops and flea markets. There are also many professional spas to relax and allow yourself to be pampered in. Visit the Bagnell Dam, a 2,543 foot long and 148 foot high gravity dam built in 1931. For the kids, and possibly yourself, visit Miner Mike's and Buster's, an indoor playground with a roller coaster and tons of fun games. There's miniature golfing, bumper cars and laser tag activities on the Bagnell Dam strip that the whole family can enjoy together.