Fishing in the Ozarks
Whether you're a serious angler or just looking to teach your kids how to fish, Point View Resort is the perfect fishing spot. The pristine waters and the gorgeous landscape on our side of the lake can't be beat. We pride ourselves in keeping the fishing areas non-smoking, we apologize for any inconvenience this may cause.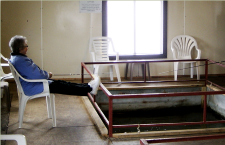 A World-Class Fishing Spot
Point View Resort has three covered docks and an enclosed, heated fishing dock for those cool mornings in the spring and fall. Our compound has 21 boat slips, all with brand new bumpers. If you can't bring your own boat, then just rent one from us! We've got 15 hp and 25 hp electric start motor fishing boats available to rent on-location. We're nestled in the Little Niangua Arm, north of the main channel, where the waters are calm and clear. There are over 1,500 miles of lakeshore so you're sure to find your own cove to sit back and wait for a bite.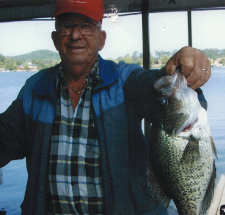 Bait and Catch at the Ozarks
The Lake of the Ozarks is the ideal place for the sportsman to discover coves full of walleye, white bass, black and white crappie and blue catfish. There are also wide mouth bass, paddlefish, stripers and bluegill. The many crappie beds, mud flats and gravel bars that are tucked away beneath the lake surface provide any angler with a new adventure each day out on the boat. We've got plenty of fish to satisfy even the most experienced fishermen. If you're just looking to teach your youngsters about the art of fishing, it's the perfect spot for lessons.
There are many marinas, filling stations and bait shops on the water or near the resort. Stock up on worms, grasshoppers, minnows or crickets. Or, depending on what you plan to catch, the full service tackle shops also have many varieties of spinners, jigs and streamers. There are also lake fishing guides who can take you out for the day and help you discover the best fishing spots around the Lake of the Ozarks.
573-873-5340
Call for Reservations:
Outdoor Activities at the Lake of the Ozarks
Okay, so maybe fishing isn't your cup of tea. You're in luck, because there are tons of other activities to choose from to make the most of your time in the Ozarks. There are 16 golf courses nearby, all of varying difficulty levels that take advantage of the serene backdrops the Ozarks are famous for. Ha Ha Tonka, a state park located near Point View Resort, has 3,600 acres of beautiful landscapes, caves and hiking trails, and you can even explore the remains of a European-style castle. Take in the scenery from horseback, enjoy some bird watching, and for hunters there's plenty of turkey and deer during their respective seasons.
Lake of the Ozarks Entertainment
Shoppers are in luck. If you'd rather spend time sniffing out deals on quality merchandise, you can check out the nearby outlet mall, which features over 100 shops. If you are looking for something a little more unique, visit one of the many antique and flea markets. There are professional spas near our resort if you want to get out of the sun and be pampered for a day. For a look at a man-made marvel, visit the massive Bagnell Dam that was built in 1931. If you want to take the kids on an adventure, check out Miner Mike's and Buster's, an indoor playground with a roller coaster and lots of family activities. The Bagnell Dam strip also has spots to partake in miniature golfing, bumper cars and laser tag so everyone's sure to find what they're looking for.