PointView 1200sq ft Lodges
Point View Resort's four private bedrooms cabin is a 1,200 square foot lodge that can accommodate up to 12 people. Each cabin offer full and queen sized beds and there are three and four bedrooms each. These cabins are perfect for larger families or bigger groups that need extra space. Unfortunately, we cannot allow pets or smoking inside of the cabins, we apologize for any inconvenience this may cause.

Sleeps Up to 12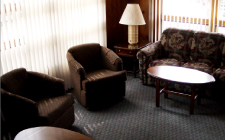 Lake of the Ozarks Cabins Right on the Waterfront
Every cabin at Point View Resort has a view of the beautiful Lake of the Ozarks water, where you can jump in the water to cool off or spend the day floating on a raft in the surrounding no wake zone. There are three covered docks and an enclosed, heated fishing dock just a few steps from your lodge, so fishing in our well-stocked crappie beds is never a hassle. We have boats of all sizes available to rent for just about any water activities you have in mind. If you prefer to spend a day in the resort area, each cabin has a porch, barbecue grill and picnic table. Also nearby is a jungle gym for the kids and shuffleboard game area.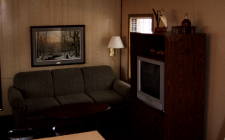 Living Area in Each Cabin
The 1,200 square feet of our four bedroom lodges include a clean and large living area with big comfy couches and armchairs. Exhausted from a day of outdoor adventure? Then simply curl up on the sofa and enjoy a movie, as each of our cabins comes complete with cable TV. We currently do not offer DVD players in any of our cabins, however you are welcome to bring your personal DVD player and hookups. Point View's lodges give you the privacy you need, while providing all the common comforts you need. WiFi is also available.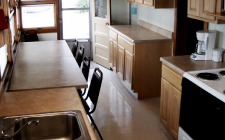 Fully Equipped Kitchen
We recognize that you may not be the type to utilize our full size barbecue grills. That's why the kitchen and dining area in each cabin is comforting and inviting, just like your own, complete with all the appliances and amenities necessary so that you aren't forced to rough it during your vacation.
573-873-5340
Call for Reservations:
Outdoor Activities at the Lake of the Ozarks
The Lake of the Ozarks is widely known for its boating, fishing and water-related activities, but there are so many other fun activities to enjoy during your visit at Point View Resort. There are 16 golf courses in the area that offer various levels of difficulty and beautiful views of the surrounding area. Ha Ha Tonka, a state park located nearby, has 3,600 acres of beautiful landscapes, caves and hiking trails, along with the remains of a European-style castle. Horseback riding, bird watching and hunting for turkey and deer in-season provide more adventure for you and the family.
Lake of the Ozarks Entertainment
If you're interested in shopping during your trip to The Lake, there is a large, outlet mall with over 110 shops conveniently located nearby. For something a little more unique, visit one of the many antique shops and flea markets. There are also many professional spas to relax and allow yourself to be pampered in. Visit the Bagnell Dam, a 2,543 foot long and 148 foot high gravity dam built in 1931. For the kids, and possibly yourself, visit Miner Mike's and Buster's, an indoor playground with a roller coaster and tons of fun games. There's miniature golfing, bumper cars and laser tag activities on the Bagnell Dam strip that the whole family can enjoy together.